Institut for Dansk Lydarkaeologi
KNOWLES, ALISON - The California Sandals, 1989
The flexi disc The California Sandals was originally released as part of a black cardboard box published by The Museum of Contemporary Art in Roskilde, Denmark in 1989, thus predating the official foundation of the museum in 1991. The box was part of a fundraising strategy to meet the requirements for the museum to gain state recognition. Museum shares were issued and sold for 1,000 DKK. Each share was accompanied by one of the cardboard boxes. The box was conceptualized and designed by Danish artist Henrik Have and in addition to the flexi disc, some boxes contained an edition work by Have himself – Architecture Piece op. 2 – a sandpaper 5" record with a small square of plaster attached. Moreover, the box contained loose pages of images of the baroque buildings where
the museum is housed, a poster, quotes by John Cage and Hans Christian Andersen, folded as leporellos, and printed pages of vision statements and strategies for the museum.
The recording on the flexi disc documents a spoken word performance by the American artist Alison Knowles, recorded in the great hall of the Viking Ship Museum in Roskilde. The performance took place on May 29th 1985 and was part of the Festival of Fantastics. In the piece, Knowles reads the text The California Sandals from her book More, published by Unpublished Edition, New York, 1970. In the book, The California Sandals is prefaced by the text Proposition VII: "Study an object thoroughly; one with which you are already familiar. Present your observations as a performance".
The Festival of Fantastics took place in Roskilde between May 24th and June 3rd 1985. Ten international artists, all closely associated with the Fluxus movement, presented a series of events, performances, concerts, and actions in Roskilde and the surrounding area: In the city square Stændertorvet, on the streets, at the Viking Ship Museum, in the library, the law courts, the culture centre, the Roskilde Convention Centre, in taxis, in the towns parks and on board a ship in Roskilde Fjord. Galleri Skt. Agnes, the citys only gallery for experimental art at the time, was the official organizer of the festival and arranged a small exhibition of Fluxus works and installations in the gallery and the nearby stable building, which is part of the baroque buildings where the museum now resides.
The Festival of Fantastics plays a central part in the early history of the Museum of Contemporary Art in Roskilde. A comprehensive archive of the event, documentation, and artifacts are present in the museums archive and collection, and the spirit of Fluxus remains a central part of the museums DNA to this day.
The remaining copies of the original flexi disc pressing are re-released by The Institute for Danish Sound Archaeology in collaboration with the Museum of Contemporary Art. - Institut for Dansk Lydarkaeologi.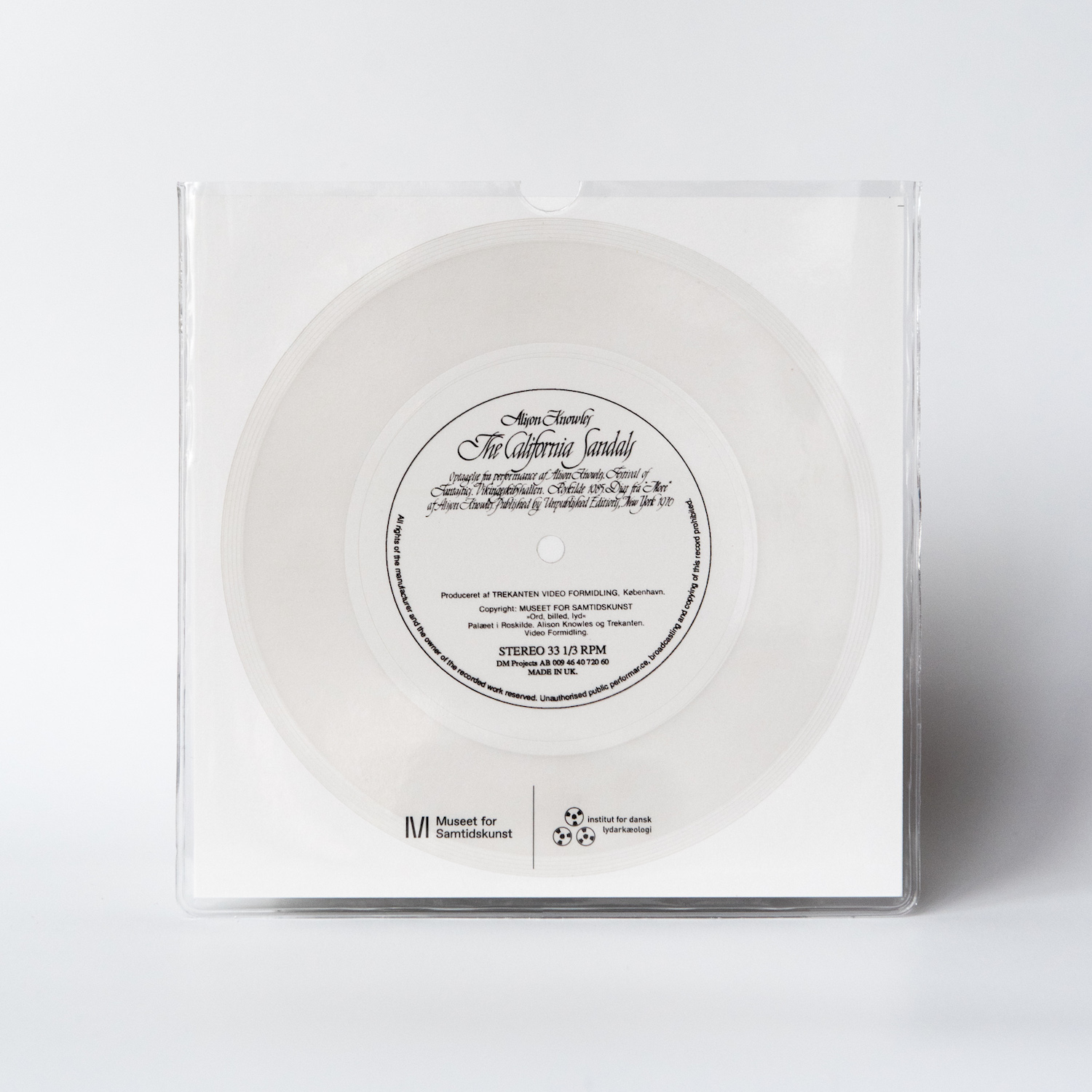 Sale

Regular price

$42.00
---
---