REPULSE - Habershon Ways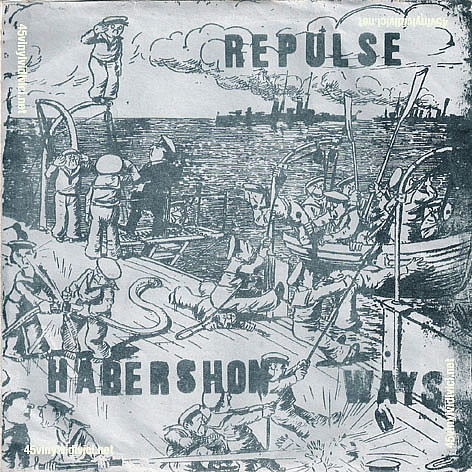 2012 reissue. Rough translation of the labels writeup..."A Cardiff band featuring musicians from Brest,managed by Molly Edmunds, mother of Dave Edmunds. 4 tracks recorded live on an Akai stereo in their living room in 1981 in "sound on sound," without mixing, bass in the front, fuzz on all the songs, reference points are punk urgency, the Velvet Underground, sixties U.S. garage guitars, psych, a real curiosity. The band members are Alana Camus Holland, Jean-Pierre Jézéquel, Alec Ansons & Thierry Lefevre. The name REPULSE is one of the numerous names of English ships, that of the EP comes from the street in Cardiff where the musicians lived, Habershon Street. The front cover has a drawing by Thomas Maybank found in a directory of the 1920-1930 Royal Navy ("The Wonder Book of the Navy"), the back has a picture from a movie starring Christopher Plummer, 1979s "Murder By Decree." 500 copies were pressed by Kiosque dOrphée in 1982, the covers were handmade."
"Groupe de Cardiff, incluant des musiciens brestois, managé par Molly Edmunds, mère de Dave Edmunds, 4 titres enregistrés live sur un Aka-ɬØ stéréo dans le salon en 1981. en "sound on sound" sans mixage, basse en avant, fuzz sur tous les titres, les références sont punk pour lurgence, Velvet Underground, guitares garage psyché sixties US , une vraie curiosité. Les membres du groupe sont Alana Camus Holland, Jean-Pierre Jézéquel, Alec Ansons & Thierry Lefevre. Le nom REPULSE est un des nombreux noms de bateaux anglais, celui du EP vient de la rue située -É Cardiff oö demeuraient les musiciens, Habershon Street, Le recto de la pochette est un dessin de Thomas Maybank reproduit dun annuaire des années 1920-1930 de la Royal Navy (The wonder book of the navy), le verso est une photo extraite dun film avec Christopher Plummer de 1979 "Murder By Decree". 500 vinyles ont été pressés par Kiosque dOrphée en 1982, les pochettes sont faites main." - Cameleon. Preview
here.
Sale

Regular price

$12.00
---
---